I needed to connect my Windows 7 desktop machine to a Linux server NFS share, but could not find a good walkthru. Here's my take on it, assuming you want to connect to a remote NFS share called /export/jcosta.
1) Enable the Windows tools
A default Windows 7 install does not assume you want to connect to a UNIX server. You therefore need to add the tools. Browse to Control Panel/Programs and Features and select "Turn Windows features on or off." Scroll down until you see the entry called "Services for NFS" and expand the tree you find there. Tick the "Client for NFS" checkbox, and click OK. The installer will commence, and likely require you to reboot the computer once it completes its work.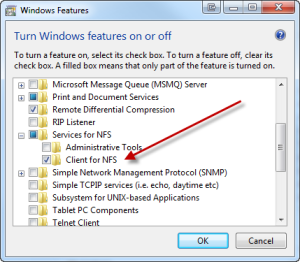 After installing, connect to your NFS share using a mapped drive: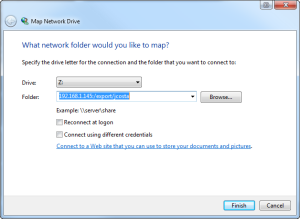 The shared drive should then come up and be usable: